Floor Cleaning, Raleigh, NC
A Professional Cleaning Company
Let us show you the highest level of floor cleaning services you can obtain in the area.
Floor cleaning is one of those things that most businesses tend to struggle with. This can be true for any size business. With a small business, you may not have the staff to handle it and you have better things to do with your time rather than do it yourself. If you own a medium to large business in Raleigh, North Carolina, you could have hundreds of square feet of flooring to content with, as well as different types of flooring, and you might not want to have a full-time commercial floor cleaner on staff. In any of these situations, the solution is contacting us at Steam Giant.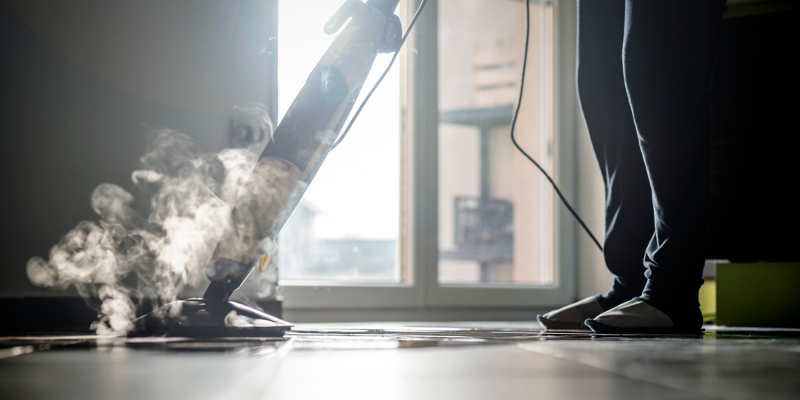 Our locally owned and operated floor cleaning company has repeatedly earned 5-star reviews, and we go to great lengths to provide exceptional service. We are well-known for being on time, reliable, affordable, and providing professional results. We are certified with the Institute of Inspection and Cleaning Restoration (IICRC), which puts us in the position to handle even complex cases, such as carpet warranty claims for carpet manufacturers. We follow all their standards on every floor cleaning project, including using Carpet and Rug Institute (CRI) approved cleaning products.
We understand the unique needs for commercial floor cleaning. For example, we utilize a VLM (very low moisture) technique for commercial carpet cleaning to minimize inconvenience and downtime at your business. You can walk on it right away, which is a real bonus if your company is open 24/7.
If you have any questions about our floor cleaning services for your business, or any of our other commercial and residential services, don't hesitate to contact us.
---
At Steam Giant, we offer floor cleaning in Raleigh, Apex, Cary, Clayton, Durham, Garner, Holly Springs, Knightdale, Morrisville, Rolesville, and Wake Forest, North Carolina.
Steam Giant Carpet Cleaning
Hours of Operation
Regular Business Hours:
Monday – Friday: 8:00 a.m. to 5:00 p.m.
Saturday – 8:00 a.m. to 12:00 p.m.
Sunday– Closed
Quote & Service Request
Packages include connecting closets & hallways for free!
If you have a custom request we will get you a quote ASAP!

Have questions or need a quote? Call 919-601-8608
Similar Services We Offer: