Floor Cleaning, Holly Springs, NC
A Professional Cleaning Company
Our floor cleaning process doesn't leave behind any sticky or stiff residue.
Maintaining the cleanliness and appearance of the floors in a home or business is a tall order. After all, these surfaces are constantly exposed to dirt and grime tracked in on shoes. Carpeting tends to trap contaminants in its fibers, while hard flooring can become stained and dull over time. Although regular sweeping, vacuuming, and mopping can certainly help to keep the floors looking better, these cleaning methods aren't usually enough to remove deeper debris that can get trapped in carpet fibers or bacteria that accumulates on the surface of the flooring.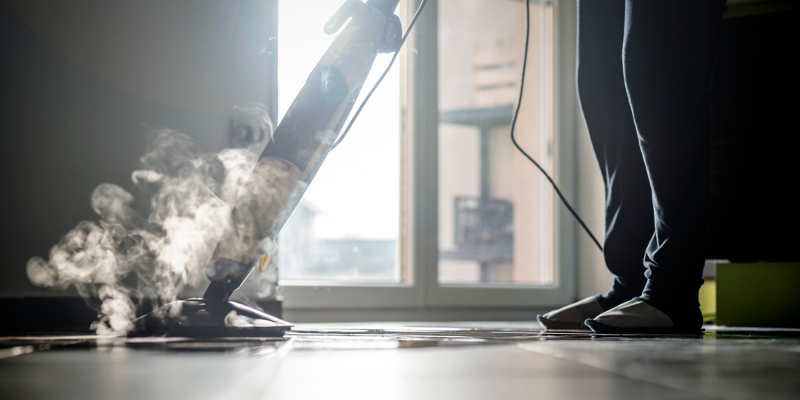 Investing in professional floor cleaning is the best way to ensure that your floors are clean and refreshed. Here in Holly Springs, North Carolina and the surrounding areas, residential and commercial clients can trust our team at Steam Giant to provide floor cleaning services. We use steam to break down contaminants and refresh all types of flooring, including hardwood, carpet, and tile and grout. This method can also be applied to upholstery and other soft surfaces in your home or business. Our floor cleaning process doesn't leave behind any sticky or stiff residue.
Something that sets us apart from other floor cleaning companies in the area is our certification with the Institute of Inspection and Cleaning Restoration (IICRC). We follow the strict standards of this agency to protect the flooring in our clients' homes and businesses. If you have questions about our services or would like to schedule a floor cleaning service, don't hesitate to contact us to learn more.
---
At Steam Giant, we offer floor cleaning in Raleigh, Apex, Cary, Clayton, Durham, Garner, Holly Springs, Knightdale, Morrisville, Rolesville, and Wake Forest, North Carolina.
Steam Giant Carpet Cleaning
Hours of Operation
Regular Business Hours:
Monday – Friday: 8:00 a.m. to 5:00 p.m.
Saturday – 8:00 a.m. to 12:00 p.m.
Sunday– Closed
Quote & Service Request
Packages include connecting closets & hallways for free!
If you have a custom request we will get you a quote ASAP!

Have questions or need a quote? Call 919-601-8608
Similar Services We Offer: