We can make your mattress like new again with our mattress cleaning services.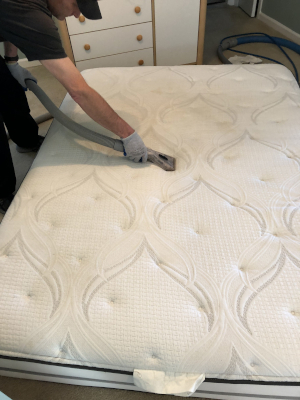 Your mattress goes through a lot of wear and tear as you use it for multiple hours each night. It only makes sense that it would become discolored or dirty over time, but you don't have to settle for its current condition or even pay for a new one instead. If you are in the Raleigh, North Carolina area, you can count on us at Steam Giant for our mattress cleaning services to make your mattress look new again.
With our mattress cleaning services, we use top-quality products and industry-leading techniques to ensure the best possible cleanliness for your mattress. We have all the necessary equipment and expertise to remove stains from any material that might be used for your mattress. We will be as persistent as it takes, but if we can't get your mattress in like-new and stain-free condition again, then it's likely that no one can.
While we are happy to offer our mattress cleaning services, we can also offer any of our other steam cleaning services you may need. We can handle your upholstery cleaning and any floor cleaning, including tile and grout, hardwood floors, and carpeting. We can also offer our services as often as you need them, whether you need multiple services at once or to spread them throughout the year.
You can trust us to leave you with a clean mattress. Give us a call today to schedule our mattress cleaning or other steam cleaning services.
---
At Steam Giant, we offer mattress cleaning services in Raleigh, Apex, Cary, Clayton, Durham, Garner, Holly Springs, Knightdale, Morrisville, Rolesville, and Wake Forest, North Carolina.