Sleep soundly on a freshly cleaned mattress.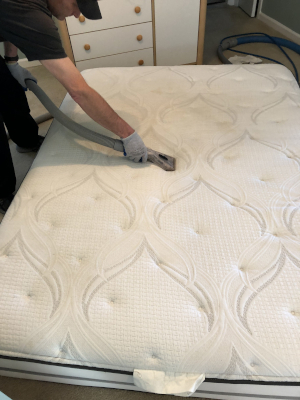 A mattress is a big investment for your home and your life. You research brands, styles, and customer reviews. You shop around to find your perfect balance of softness and firmness, as well as the additional features you want, until you find your perfect match. When you finally get your new mattress settled in your home, you expect it to be a source of relaxation and comfort for years to come. With our mattress cleaning services, you'll know you're sleeping on a mattress that is as comfortable as it is clean.
Over time, mattresses acquire dust mites and bacteria from normal use. Mattresses need routine cleaning even if they are free of stains or odors. Whether you just want to refresh your mattress or need considerable stain cleaning, our team at Steam Giant can help.
We service homes throughout Apex, North Carolina to give homeowners peace of mind that they are laying down their heads each night on a clean and healthy mattress. If you're one of the millions of Americans who suffers from allergies, routine mattress cleaning can help reduce symptoms by eliminating many allergens from your mattress.
Using top-of-the-line equipment, we give your mattress a deep clean, reaching bacteria well beneath the surface. Our gentle but powerful mattress cleaning service treats stubborn stains and leaves your mattress fresh, clean, and dry, so you can get a good night's sleep.
If your mattress could use a refresh, give us a call. Our mattress cleaning services will keep your mattress clean, healthy, and comfortable.
---
At Steam Giant, we offer mattress cleaning services in Raleigh, Apex, Cary, Clayton, Durham, Garner, Holly Springs, Knightdale, Morrisville, Rolesville, and Wake Forest, North Carolina.