Pet Stain & Odor, Apex, NC
A Professional Cleaning Company
You don't have to suffer with pet stains & odors – call us for the solution!
There are many people out there who purchase a home carpet cleaner or rent one from the store in the hopes that they will be able to keep their carpeting looking great and free of stains and odors. Unfortunately, those systems are often no match for pet stain & odor situations. Whether you have a one-time pet accident to resolve or have an aging or ill pet and an ongoing problem, our professionals here at Steam Carpet can come to the rescue.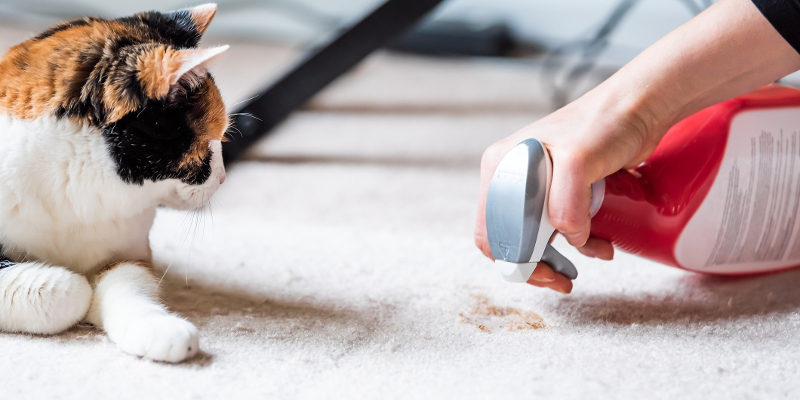 We utilize special products and processes to clean pet stains and persistent odors. The problem is that urine can make it down into the padding and underneath it where it hardens into crystal deposits that are not removable with standard methods. To be honest, this situation is sometimes beyond even our pet stain & odor cleaning process, and if this is the case, our team will advise you that replacing the carpet and padding is necessary. You can always depend on us to make the best recommendation for your situation, as we put your interest first in all we do. It is also important to note that we are certified with the Institute of Inspection and Cleaning Restoration (IICRC), so if your carpeting is warrantied against pet stains & odors and it turns out you need to make a claim, our certified firm can handle that process for you.
If you have a pet stain & odor problem at your Apex, North Carolina home and would like to have a technician assess the situation and perform cleaning with an enzyme product that can make a substantial improvement, don't hesitate to contact us to schedule an appointment. We will do everything in our power to restore your carpeting and freshen your home to your complete satisfaction.
---
At Steam Giant, we help with pet stain and odor cleaning in Raleigh, Apex, Cary, Clayton, Durham, Garner, Holly Springs, Knightdale, Morrisville, Rolesville, and Wake Forest, North Carolina.
Steam Giant Carpet Cleaning
Hours of Operation
Regular Business Hours:
Monday – Friday: 8:00 a.m. to 5:00 p.m.
Saturday – 8:00 a.m. to 12:00 p.m.
Sunday– Closed
Quote & Service Request
Packages include connecting closets & hallways for free!
If you have a custom request we will get you a quote ASAP!

Have questions or need a quote? Call 919-601-8608
Similar Services We Offer: