Sit comfortably with our upholstery cleaning services.
It's fairly easy to determine when you need carpet cleaning. As a general rule, carpets should be cleaned annually, or more often if there is heavy foot traffic, you own pets, or you have frequent staining issues. While these are easy guidelines, knowing when to take care of your upholstery is not always as clear. Here at Steam Giant, we want to help you with all your upholstery cleaning needs and questions. We have been working in this business for over a decade now, and we would love to help you in the Apex, North Carolina area.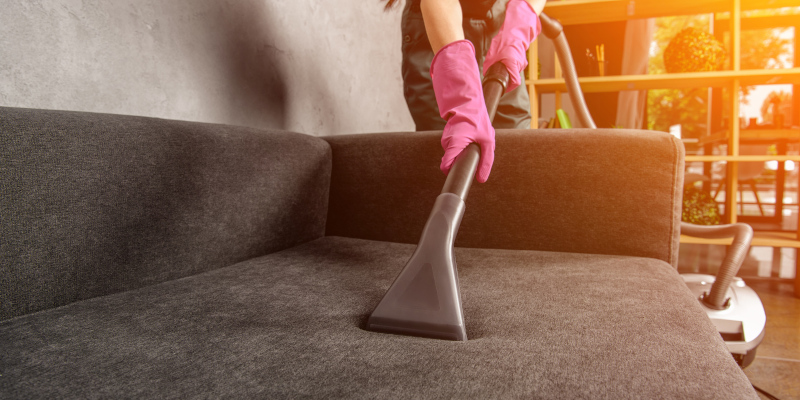 Upholstery has some of the same features of carpeting, but many people forget that they should also have their upholstery cleaned regularly. When we sit on our upholstery, we shed skin cells, leave behind body oils, and even attract dust mites and other microscopic flecks of dirt, dust and dander. Upholstery cleaning is able to remove these things, leaving your furniture feeling clean, smelling fresh, and looking great.
We utilize specialized steam cleaning methods and products to deliver a thorough clean while also protecting your materials. Our brushes are able to get rid of pet hair, and we can perform quality spot treatment options, while our cleaning methods and industrial-grade suction and cleaner distribution ensure that very little moisture is left behind, which means quick drying times.
If you have been worried about spots or dirt that is showing up on your upholstery, we would like to help with upholstery cleaning. Our services are great for refreshing, maintenance and virtually any time you'd like to get a clean, fresh look for your upholstery. For more information or to schedule an appointment, please contact us today.
---
At Steam Giant, we offer upholstery cleaning in Raleigh, Apex, Cary, Clayton, Durham, Garner, Holly Springs, Knightdale, Morrisville, Rolesville, and Wake Forest, North Carolina.